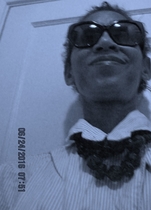 Blue and white striped Ralph Lauren shirt and red bead necklace
Now that I'm embarking on my third week back to school/work at my day job as a Special Education Instructional Assistant for LAUSD I'm more prepared to incorporate my current influences into my daily wardrobe. Over the summer I happily immersed myself in a more "put together" era, through Debbie Sessions' historical 1950s style guides via http://www.vintagedancer.com and the book, The Gown by Jo Ellison, I'm reading for the Fashion Book Lovers Group I'm in, on http://www.goodreads.com. Despite this reality hit, and the hectic initial schedule of the fall semester beckoned, forcing me to contemplate how to wear something comfortable, sturdy, attractive and individualistic.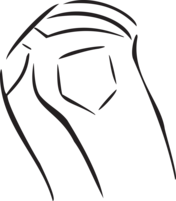 Skinny Jeans
If I looked at the unofficial dress code for the part of the city I work in, I'd have skinny, pre-distressed jeans, leggings, tight slogan tees, pajama bottoms, short shorts and furry slides to choose from. If I incorporated my new '50s inspirations, however, with the trends I saw in Vogue, Harper's Bazaar, Elle and the new magazine Fudge I'd just bought at Kinokuniya Books, I could definitely sidestep these overdone trends and come up with something more unique and personalized.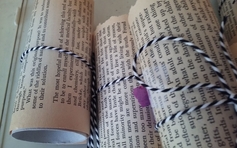 Freudian Book Page Party Decorations
Learning Can Be Fun: Monday Week 1
With that in mind, I combined the old with the new and started my Monday with a brown and white swirl print jacket from Goodwill Thrift Store over a red plaid shirt from Ross and a pair of Mossimo jeans from Target. To give it that '50s edge I accessorized the outfit with a yellow and brown retro print scarf tied as a doo rag around my hair, a strand of pearls and a pair of black cat-eye shades.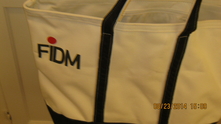 FIDM Tote Bag
Settling In: Monday Week 2
Contrasting the form-fitting elan of last Monday's ensemble, my mood became increasingly relaxed as I entered the second week, and I chose to embrace the structured jacket + flowy pant look of the fifties, by coordinating a navy-blue blazer with a white button-down men's shirt and orange and white polka-dotted tie-front pants from Kohl's. Accented with a skinny navy-blue polka-dotted scarf, from Fallas I also introduced a touch of Prada into the mix.